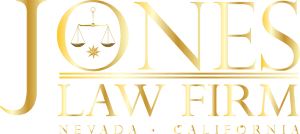 FREE INITIAL
CONSULTATION


(775) 853-6440
SERIOUS PERSONAL INJURY
Trusted Trail Lawyers with Proven Results
The attorneys at Jones Law Firm have over 28 years of combined experience representing clients in a wide range of serious injury and wrongful death claims. In addition to representing injured clients, Mr. Jones previously worked for the insurance companies in defending a wide variety of personal injury claims. As a result, he knows their tricks and can help you maximize your recovery for serious injuries caused by the negligence of another.
When you work with Jones Law Firm you work with a team of experienced trial attorneys who will work on your behalf to protect your rights after an injury caused by the negligence of another. We will work diligently to ensure that those responsible for your injury are held accountable. Contact us today for a free initial consultation.
Full and just compensation for serious personal injuries
If you or a loved one has suffered a serious personal injury due to the negligence or wrongdoing of another, contact us today for a free case consultation.  Your consultation is free and we do not charge any attorney's fees unless we recover compensation for you. Call us at 775-853-6440 or contact us online to learn more.
Coping with the tragedy of a wrongful death
We understand that not only are you facing a devastating emotional loss, but you also are facing an uncertain future whithout that loved one's contributions to your finances. Our firm has the trial experience and financial resources to build a strong and compelling case on your behalf.
SETTLEMENTS
$65 million dollar settlement –

 

Brown v. Wal-Mart
$12.5 million dollar settlement – In Re Wells Fargo Wage and Hour Litigation
$38 million dollar settlement – In Re: Staples Overtime Cases

$20 million dollar settlement – Puchalski v. Taco Bell Corp.

$19 million dollar settlement – Lofton v. Wells Fargo

$17.5 million dollar settlement – Sears, Roebuck & Co. v. Fitts

$7.5 million dollar settlement – Bates/Bartlett v. Rubio's Restaurants Inc.

$6.2 million dollar settlement – In Re Station Casinos, Inc.

$5.0 million dollar settlement – West v. Circle K Stores, Inc.

$3.9 million dollar settlement – Doornbos v Pilot Travel

$3.5 million dollar settlement – Lindley v. Discount Tire Centers, Inc.

$3.3 million dollar settlement – Pritchett v. Office Depot, Inc.

$2.125 million dollar settlement – Young v. Charles Schwab & Co. Inc.

$2.9 million dollar settlement – Yates v. Wingfoot Commercial Tire Systems, LLC

$1.85 million dollar settlement — Major Las Vegas Casino
LEGAL LINKS